COVID-19 Dashboard, Story Maps and Publications
These COVID-19 visualizations and analytics were created as part of the ongoing project: A comprehensive analytic framework for COVID-19 mortality in long term care facilities and neighborhoods applicable to major metropolitan centers.
A major part of this content will be used as educational material in the UIC Public Health Geographic Information Systems (PHGIS) Program at the School of Public Health, Health Policy and Administration Division.  Case studies based on the COVID-19 pandemic help develop skills with learning outcomes in:
spatial data analytic techniques (HPA 480 and HPA 565 online classes ) and
the design of user comprehensible and friendly interactive dashboard and story maps (HPA 564, HPA 592, and HPA 455 classes).
The HPA 455 Geographic Information Systems Integrative Project online course is a major innovation of this educational certificate program. The primary objective of this class is to have our students interact with GIS experts and demonstrate their level of skills in applying database theories and GIS techniques to visualize and explore a public (or environmental) health issue such as the Covid-19 Pandemic.  The story map platform is one of the educational platforms within which students interact with their instructor and gradually develop a story by analyzing and visualizing patterns.
The educational design, content, and tasks in the UIC PHGIS program were developed by (in alphabetical order): Matt Blaser, Michael Cailas, John Canar, Brian Cooper, Peter Geraci, Joel Hatch, and Kristin Osiecki.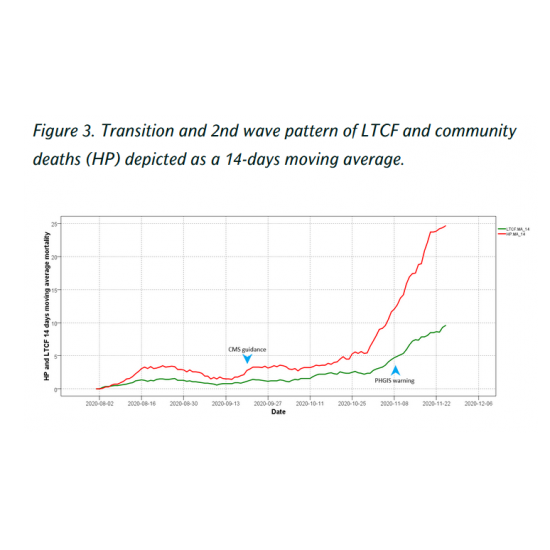 The PHGIS team warns that if measures are not taken the alarming death toll for nursing homes will follow a similar, hopefully, less intense, trajectory as that suffered during the spring.

What lessons can be applied?

|
Analyzing COVID-19 Mortality Within the Chicagoland Area: Data Limitations and Solutions Heading link
Identification of regions with high levels of mortality and infection is a prerequisite for an effective mitigation strategy to protect the public and allocate resources.